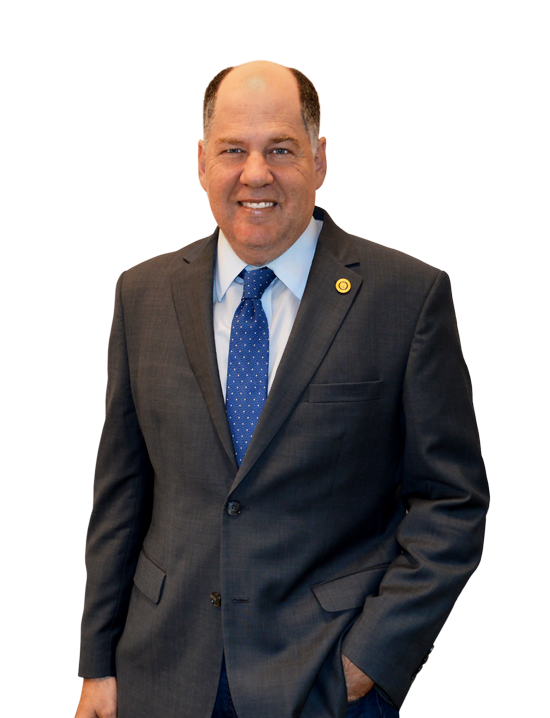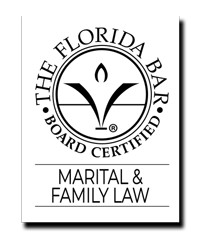 "I'm Gary Dolgin and I am proud to be a Board Certified Expert in Marital and Family law.

I'm one of only 28 in Hillsborough County and one of only 270 in the State of Florida.

I've been practicing law for 32 years. I'm also a Florida Supreme Court Certified Family Law Mediator.

So if you have an issue with family law whether it's divorce, child custody, alimony, support, a spouse who's not paying their support, any type of custody, a prenuptial agreement, please feel free to call me and we'll be happy to help you.

I want you to know that I am committed to the highest level of service to my clients in marital and family law cases.

This includes simple courtesies such as promptly returning your phone calls and being accessible to answer all of your questions and concerns when they arise.

As your attorney, I will listen closely to you so I can understand your concerns. I will always maintain your privacy and educate you as much as possible regarding your legal rights and responsibilities.

I believe it is very important for me to take the time to thoroughly explain the law to you and how it applies to the facts of your case.

As your attorney it is my role to educate you so you understand the law and the divorce process so that you can make decisions in your best interest, with the goal of achieving a successful resolution to your case.

My ultimate goal is to assist you in resolving your marital and family law issues judiciously and efficiently.

When you come to the Law Offices of Gary S. Dolgin, we will treat you like family.  We will guide you through the process, explain to you everything that's going to happen and help you get through this stressful time.

We are here for you."

~ Gary S. Dolgin, Attorney At Law
Family and Divorce Lawyer, Gary Dolgin's clients have included doctors, lawyers, accountants, both active duty and retired military personnel, business owners, corporate executives and their spouses, professors and teachers.  Mr. Dolgin handles divorce cases ranging from simple uncontested divorces to complex matters involving issues such as custody and visitation, distribution of marital assets and liabilities, alimony or spousal support, child support, domestic violence, marital misconduct and both premarital and postnuptial agreements.
Gary Dolgin is a Florida Supreme Court Certified Family Law Mediator and encourages the use of alternative dispute resolution methods to minimize costs and emotional fallout in resolving divorce cases. However, if alternative dispute resolution is unsuccessful, Mr. Dolgin will prepare the case for trial as he has extensive litigation experience as a Board Certified Marital and Family Law expert.
Gary Dolgin has been practicing law in Tampa, Florida since 1990, helping families resolve their family and marital law issues with integrity and compassion. His practice areas include:
Family Law

Child Support

Family Law Mediation

Prenuptial & Postnuptial Agreements

Domestic Violence
With a passion for the practice of family law and a commitment to professionalism in the legal field, Gary Dolgin is active in various organizations:
Family Law Section Member of the Florida Bar

Family Law Section Member of the Hillsborough County Bar Association

Has served on the Executive Council of the Hillsborough County Family Law Section

Member of the Family Law Inns of Court (a professional organization of lawyers and judges dedicated to professionalism in the legal field)

"Distinguished" Peer Rated for High Professional Achievement by Martindale-Hubbell
Gary Dolgin is the author of the "Temporary Relief" chapter of Florida Dissolution of Marriage (Fla. Bar CLE 15th Ed. 2023, Fla. Bar CLE 14th Ed. 2018, Fla. Bar CLE 13 th Ed. 2017, Fla. Bar CLE 12th Ed. 2015 , Fla. Bar CLE 11th Ed. 2012, Fla. Bar CLE 10th Ed. 2010, Fla. Bar CLE 9th Ed. 2008, Fla. Bar CLE 8th Ed. 2006, and Fla. Bar CLE 7th Ed. 2004). This book is published by The Florida Bar and is widely used as a reference by attorneys and Judges when it comes to divorce issues in Florida. He has published various other articles and lectured on a variety of family law topics.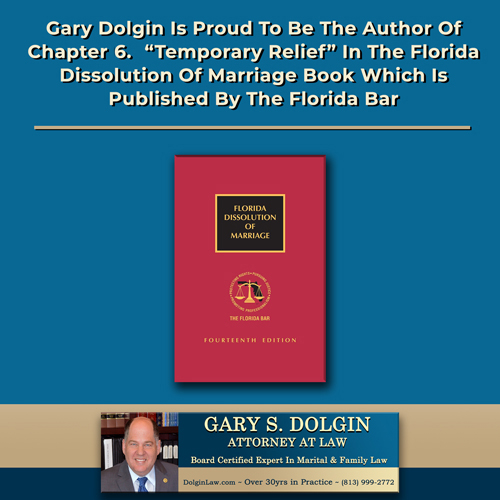 With over 32 years in practice, Gary Dolgin is an accomplished and knowledgeable family law attorney, always staying at the forefront of ever-changing family laws in Hillsborough County, Florida.
Board Certified Expert In Marital and Family Law

Florida Supreme Court Certified Family Law Mediator

Has served the State of Florida both as a prosecutor and public defender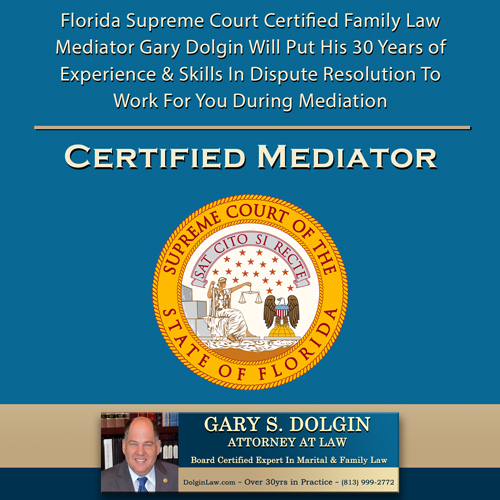 Gary Dolgin received a BBA in Accounting in 1986 from Emory University and was inducted into Beta Alpha Psi, the Accounting Honor Society. He received his law degree from the University of Florida College of Law where he was a member of the trial team and recipient of the Marks, Gray, Conroy & Gibbs, P.A. Trial Team Competition award.
Mr. Dolgin is a lifelong resident of Tampa, Florida and attended Gorrie Elementary, Wilson Middle School, and Plant High School. He is the son of Dr. Ann Dolgin, a retired educator, and the late Dr. David Dolgin, a periodontist in Tampa for over 40 years. He is married and has three children.
An Initial Consultation for your family and marital law case in Tampa, FL includes a discussion of all legal issues that may affect your case, including parental custody or responsibility, equitable distribution or division of your marital assets and liabilities, alimony and child support.
Mr. Dolgin's goal is to provide the best legal advice and educate you on these important issues so that you have an understanding of how you wish to proceed with your case.
Mr. Dolgin will explore the best way to resolve your case and is committed to the highest level of client service to assist you in resolving your family law matter expeditiously.