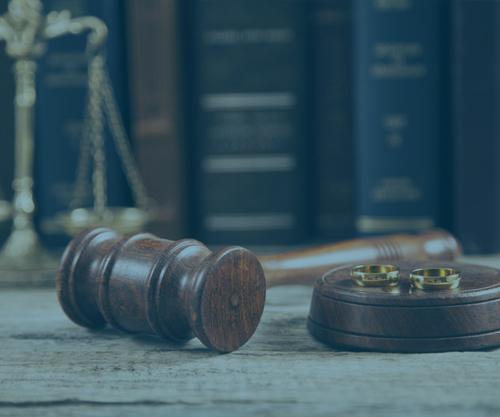 "Are you going through a divorce?

If you need an Expert in Marital and Family Law I'm Gary Dolgin, one of only 28 lawyers in Hillsborough County who is designated by the Florida Bar as a Board Certified Expert in Marital and Family Law.

When you come into the Law Offices of Gary S. Dolgin, Tampa family and marital law firm, we will treat you like family.

We will guide you through the process, explain to you everything that's going to happen and help you get through this stressful time."

~ Gary S. Dolgin, Attorney At Law
Former Divorce Client, Jennifer Is Grateful To Gary Dolgin For Helping Guide Her Through Her Divorce
One of Gary Dolgin's former divorce clients, Jennifer, is thankful to Gary for helping to guide her through her divorce 14 years ago.
As a Stay-At-Home Mom, Jennifer needed an aggressive and knowledgeable divorce attorney in Tampa who would help stand up for her and protect her best interests through her divorce.
It took over 2 years for Jennifer and her ex-husband to come to a final divorce agreement and Jennifer is happy that she selected Gary Dolgin to represent her.
Jennifer greatly appreciated Gary's superior abilities to prepare her for and help her through numerous mediations.
She was also grateful to Gary for making sure that the details of her settlement agreement would allow her to be financially secure as she transitioned from being a Stay-At-Home Mom to entering the workforce again.
Watch this video to hear what Jennifer has to say about Gary Dolgin's exceptional representation during her divorce.
Divorce Client Melinda Is Grateful To Gary For Helping Her Get Sole Custody Of Her Children & Helping Her Through Her Complicated Divorce
Melinda's divorce was challenging because her ex-husband was not willing to negotiate on several issues and tried to discredit her with expert witnesses in court.
Having a child with autism and multiple sclerosis, Melinda had not worked outside of the home for over 6 years and had no source of income when she and her ex-husband separated.
Gary Dolgin helped Melinda get an emergency court order for alimony and child support during her divorce to help pay her bills and medical expenses for her child.
Through Gary's expertise and knowledge during court proceedings, Gary was also able to defend Melinda against her ex-husband's expert witnesses and helped Melinda gain sole custody of her two children.
Melinda is grateful to Gary for all the support and superior representation he provided her during her challenging divorce process.
In this video, Melinda shares what she has to say about Board Certified Expert in Marital and Family Law, Gary Dolgin representing her during her divorce and helping her with child custody, alimony, equitable distribution and child support.
Former Family Law Judge, Kevin Carey Retained Gary For His Divorce & Highly Recommends Him
When Kevin Carey served as Hillsborough County Circuit Court Judge in the Family Law Division, Gary Dolgin appeared before him several times representing clients in family law cases.
Kevin Carey was so impressed with Gary Dolgin's abilities as a divorce attorney and family law attorney, that Kevin retained Gary to be his own divorce attorney when Kevin's marriage was ending in 2007.
As a former Family Law Judge and fellow Family Law Attorney, Kevin has the utmost respect for Gary as a top divorce attorney in Tampa and Board Certified Expert in Marital and Family Law.
Watch this video to hear what former Judge Kevin Carey has to say about Gary Dolgin.
No matter the complexity and difficulty of your divorce, Gary S. Dolgin has the knowledge and experience to help you.
Not all divorces are the same and Gary Dolgin has helped thousands of people going through all types of divorces in Hillsborough County, Florida, including:
high asset divorce

high conflict divorce

contested divorce

uncontested divorce

collaborative divorce
With over 32 years of experience in divorce in the Tampa Bay area, Gary Dolgin will help guide you through all the complicated issues that need to be addressed when ending a marriage, especially if children and grandparents are involved, including:
child support

collaborative divorce

marital settlement agreements

separation agreements

marital property agreements
Being Board Certified in Marital and Family Law Makes A Difference
While many lawyers may handle marital and family law matters at various levels, only those who have met the requirements of Board Certification are allowed to identify themselves as a "specialist." Certification is the highest level of recognition by The Florida Bar of the competency and experience of attorneys in the areas of law approved for certification by the state Supreme Court.
Also being a Florida Supreme Court Certified Family Law Mediator, you can rest assured that Gary Dolgin has the knowledge and skills necessary to help you get through your divorce in the best possible way.
With Gary Dolgin's consistent track record of uncompromising ethics and his great reputation among peers and judges in the Tampa community, you will be in great hands as he guides you through your divorce.
We Have The Knowledge and Experience To Help Achieve The Best Possible Outcome For You
When going through a divorce, you want the best divorce lawyer possible who will be capable of helping you get through your divorce with the best possible outcome.
Having helped thousands of wives, mothers, husbands, fathers, children and grandparents through divorce in Hillsborough County, Florida since 1991, you can rest assured that Tampa divorce attorney Gary Dolgin will help you get through your divorce, taking care of your best interests diligently, with integrity and compassion.
To schedule a divorce consultation with Board Certified Expert in Marital and Family Law in Tampa, Gary S. Dolgin, please call (813) 999-2772, and it will be our pleasure to help you.